Ron M. Linton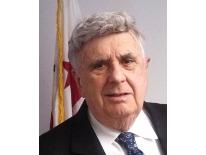 Ron M. Linton is the Chairman of the DC Taxicab Commission and Chief of the Office of Taxicabs. He was appointed by Mayor Vincent C. Gray on July 27, 2011. Linton is a public-policy planner whose primary fields are transportation, water resources, the environment and public safety. He has 50 years of experience in intergovernmental relations, planning, and communications. He was the founder and CEO of Linton, Mields, Reisler & Cottone, Ltd. from 1968 to 1994 when the firm merged with the Carmen Group. He retired in 1997 and now consults on government relations, law enforcement and economic planning.

As a long-time resident of the District, Linton has a distinguished record of public service, having served two previous Mayors in various capacities as well as having served in numerous other roles including 22 years as a reserve officer and his last four years as a fully sworn deputy and assistant chief of police.

Linton was Chairman of the Metropolitan Washington Airports Authority (MWAA) Board of Directors from 1992-1994. He was among the initial directors appointed to the Airports Authority when it was created in 1986. For six years he chaired the Operation Committee and was instrumental in the planning of airport financing of nearly $1 billion. During his tenure with the MWAA he became familiar with the taxi industry regionally and nationally.

From 1996-2000, Linton served a four-year term on the board of the DC Water & Sewer Authority, the last two years of which he served as chairman. In the first two years he chaired the board's finance committee and was the principal architect of the authority's financial plan, which resulted in a $280 million bond issue.

Mr. Linton's professional career also includes working for the Defense Department and on Capitol Hill as Staff Director of the US Senate Committee on Public Works in the early 1960's. In addition to his public policy work, Linton spent a year as a visiting professor in environmental and urban studies at Rensselaer Polytechnic Institute in Troy, NY.
He has written numerous articles on urban and environmental affairs, and in 1970 his book Terraced: America's Destruction of Her Living Environment was published by Little, Brown and Company.
In his community, Mr. Linton was an ANC Commissioner, member of the board of the United Black Fund for 20 years and a board member of the former Barney Settlement House.
Mr Linton is a native of Detroit, where he attended public schools and earned his B.A. from Michigan State University.