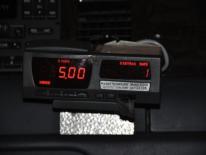 DCTC Approved Taximeter Vendors
The following is a list of taxicab meters that certain companies have notified the Commission meets the taximeter requirements stated in the Commission's regulations. This list is provided to you solely as a courtesy. The Commission does not license or approve such companies and/or their meter equipment and makes no representation that these meters meet the Commission's requirements. Therefore, it is up to the taxi operator to independently verify that the meters do in fact meet the Commission's taximeter requirements. Please remember that use of a taximeter that does not meet the Commission's requirements could subject you to a fine and confiscation of the unauthorized equipment.
DCTC Taximeter Business License
The Taximeter Business Application form should be completed for new applications, renewals and to request changes to current information. The Taximeter Business Application checklist can be used to assist in the application process.
DCTC Installation Locations
[PDF] This document is presented in Portable Document Format (PDF). A PDF reader is required for viewing. Download a PDF Reader or learn more about PDFs.