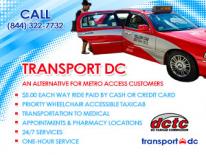 Effective April 1, 2015
Transport DC
The Transport DC (formerly CAPS-DC) program provides alternative taxicab transportation to MetroAccess customers. Customers will receive transportation to and from anywhere in the District and offer efficient, curb-to-curb taxicab or wheelchair accessible vehicle service for DC residents to ensure an improved travel experience. MetroAccess customers are encouraged to try the Transport DC service any time travel is needed. Book your ride by calling 1-844-322-7732.
One-hour service: Flexibility to make a reservation one hour before a ride is needed.
One stop pick-up and drop-off: No need to share a ride or make multiple stops before reaching the destination.
Choice of pick-up and drop-off location: Trips can start/finish anywhere within the District of Columbia.
Companion rider: Companions are welcome to accompany Transport DC participant at no additional charge.
$5.00 each one-way ride: Each one-way trip is $5.00, which can be paid by cash, credit card or debit card.
Priority wheelchair accessible taxicab use: Priority use of wheelchair accessible vehicle is given to Transport DC participants.
MetroAccess compatibility: Transport DC drivers require participants' MetroAccess ID number at time of service. MetroAccess payment processes remain the same. Transport DC participation does not affect MetroAccess eligibility.
Schedule your ride: Call 1-844-322-7732
Ride Status: Capitol Cab (202) 398-0500; Yellow Cab (202) 544-0911
Your feedback is valuable: For Transport DC program issues contact Karl Muhammad at (202) 645-4435 or karl.muhammad2@dc.gov ; for eligibility issues contact WMATA at (202) 962-1100 or access@wmata.com