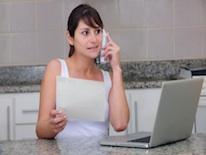 The complaint against a taxicab/limousine operator or owner must be in writing or complete the online DC Taxi Complaint Form.
The complaint must contain all of the details concerning the incident and include the minimum of the name of the operator, vehicle license tag and date and time of the incident.
Please include your name, mailing address, daytime phone number and email address. There are several methods to contact the Taxicab Commission:
Complete the online DC Taxi Complaint Form
Hand carry your letter to the Taxicab Commission at 2235 Shannon Place SE, Suite 3001
Fax your letter to (202) 889-3604
Use the United Postal service
Email your complaint to complaints.dctc@dc.gov
When your complaint is received, it will be investigated. You will receive an acknowledgement letter. The operator will also receive a letter requesting them to report to the Taxicab Commission.
If a hearing is required to adjudicate this matter, you will be contacted via letter or telephone with the hearing dates, times and a location.
Discrimination by Taxi Drivers or Companies is Illegal in the District of Columbia:
If you believe you have been discriminated against by a taxi driver or company because of any of the protected traits listed below, you can file a complaint with the DC Office of Human Rights at ohr.dc.gov/taxis, or by calling their office at 202.727.4559. Filing a complaint with the Office of Human Rights is cost-free and does not require a lawyer. Monetary or other damages can be awarded if probable cause of discrimination is found. Complete the Taxicab Discrimination Complaint Form. You can learn more at ohr.dc.gov.
Traits Protected From Taxi-Related Discrimination in the District of Columbia: race, color, religion, national origin, sex, age, place of residence or business, marital status, personal appearance, sexual orientation, gender identity or expression, family responsibilities, political affiliation, matriculation (status as a student), familial status, and genetic information.